Linking you with Ashley today for Friday letter!!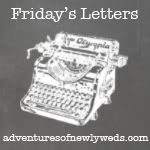 Dear Nutcracker Market, my mom and I had a great time yesterday! We shopped until we dropped could not walk anymore. I think my feet are still pretty sore today! It felt good to get out of there early, woman can get nutty there! We found a lot of great things and actually covered every row! I cannot wait for December!
Dear Color Run 5k, I am so excited to get painted on Sunday!! I have a fun group of gals that I will be running with! I really hope the rain stays away in the morning! Has anyone else done the color run?! Any tips or recommendations?!
Dear Melting Pot, you were pretty wonderful this week. I love when you have super fun events like girls night, movie night, etc.! Total carb load! However I will need to get back on the wagon!
Dear University of Houston Homecoming, I so excited to see lots of friends from college this weekend!! I also hope we add another win to our record! It should be a great day!!
Dear
Work Conference, After months of planning it will all come down to next week! I'm super excited. It will be nice to be around cold weather and actually start wearing my winter clothes!
Dear Blog Friends, you are awesome!! I have enjoyed getting to know a lot of you and finding new blogs everyday! It's a whole new world and I enjoy it! Thanks for all of the sweet comments! Hope you all have a fantastic weekend!!