Happy Friday Y'all! Is anyone in the Houston area going to the Houston Blogger Symposium tomorrow?! I'm beyond excited to meet Houston/Texas bloggers and learn more about how I can make this little ole blog here a lot better!! I cannot wait to share more about this event next week!
Something else super exciting!!
Congratulations to one of my best friends, Ashley who just got engaged in Hawaii!!
I cannot wait for the all the celebrations! Love y'all!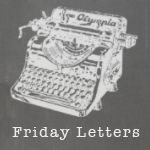 I'm linking up with another Ashley today for Friday Letters! You should join, link up here!
Dear Bloggers Bonding over Bubbly, I am so excited to attend this awesome event tomorrow! It will be so nice to meet some Houston area bloggers! Looking forward to a fun filled day!
Dear Rain, please hold off on the rain this weekend there are so many things I would like to do! However if you do decide to rain, please do so in the morning so I can sleep longer!
Dear Work, you are cramping the ladies dance party I was scheduled to have tonight, but I cannot complain that I was promoted to take over PR along with my my Marketing role though! GO ME!
Dear COOGS, let's really give it to UCLA!! I'll be cheering you on!
Dear Blog Friends, I hope everyone has an amazing weekend!!