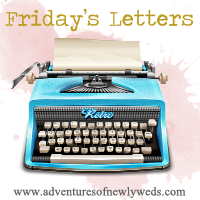 Dear Zoo Organization, I really enjoy having our events at the zoo, but last night's event at Blackfinn was great! I think every one had a good time learning about sharks!
Dear new Kroger on Studemont, you are not even open yet and I already do not like you. You are putting in a new light and trucks are starting to deliver....It's all in my way. I enjoyed being able to zoom through there and now you just ruined it. I think I will boycott you unless you would like to send me on a shopping spree....forget about it!
Dear Banana Republic, thank you so much for inviting me to come and meet one of my most favorite local chefs- Bryan Caswell!! His food was the bomb.com as always and he was so nice and genuine! You can read what I have written about him here!
I've got the super cheese on! I was so excited!!
Dear Blog Friends, Thank you for all of your comments this week! I'm really enjoying this blogging experience! Everyone is sooooooo nice!!
This week I was able to catch up with so many great friends! From lunch dates to happy hours and bike rides! It was so nice!
Laila, Lisa, Ashley and I having some girl time!
Taylor (my little sister from DZ) and I playing in Midtown!
I hope everyone has a fantabulous weekend!!